The Perfect Double Bacon Cheeseburger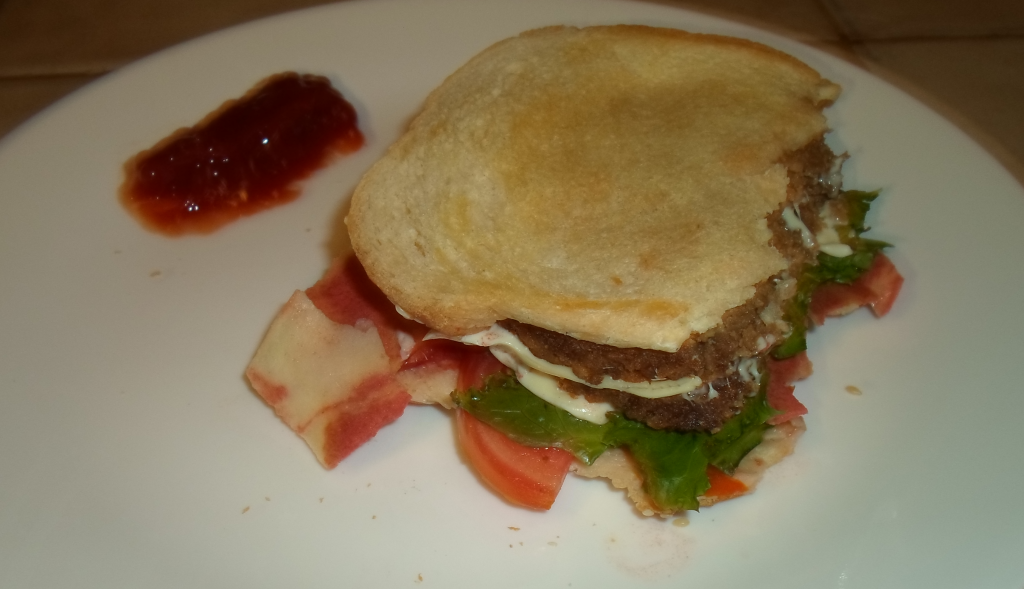 "Mostly-Vegan" Ingredients:
Lettuce
Tomatoes
Morning Star Griller's Original Veggie Burgers (2)
Morning Star Veggie Bacon Strips (2)
Go Veggie! Pepper Jack Rice Vegan Slices (2)
Pepperidge Farm Italian Bread with Sesame Seeds
KA·ME Hot Mustard
Grilled with: Smart Balance Omega-3 Buttery Spread
On the side: Heinz "No Salt" Ketchup
The price is right.  This costs less than a typical double bacon cheeseburger, and the labor is minimal.
The biggest offender here is the sodium.  It adds up to about 58% of the recommended daily sodium (which some say is too lenient as it is!). Just for comparison, a Bacon & Cheese Whopper from Burger King will set you back about 59%.
The sodium here could be scaled back with craftier product selection, as well as by not making everything a double.  Here the veg*n beef and bacon accounted for the most sodium, although these Morning Star products did have the lowest sodium out of the veg*n product selection that was available to me, so there isn't much room for improvement there.  The bread added 10% sodium, and so there is definitely potential there.  It's good bread though.