Rhyming With The World
We're going to take two trips at the same time.  One through time and one through an ecological life cycle.  Both will be through vignettes and neither will be linear.
– Gone To Texas –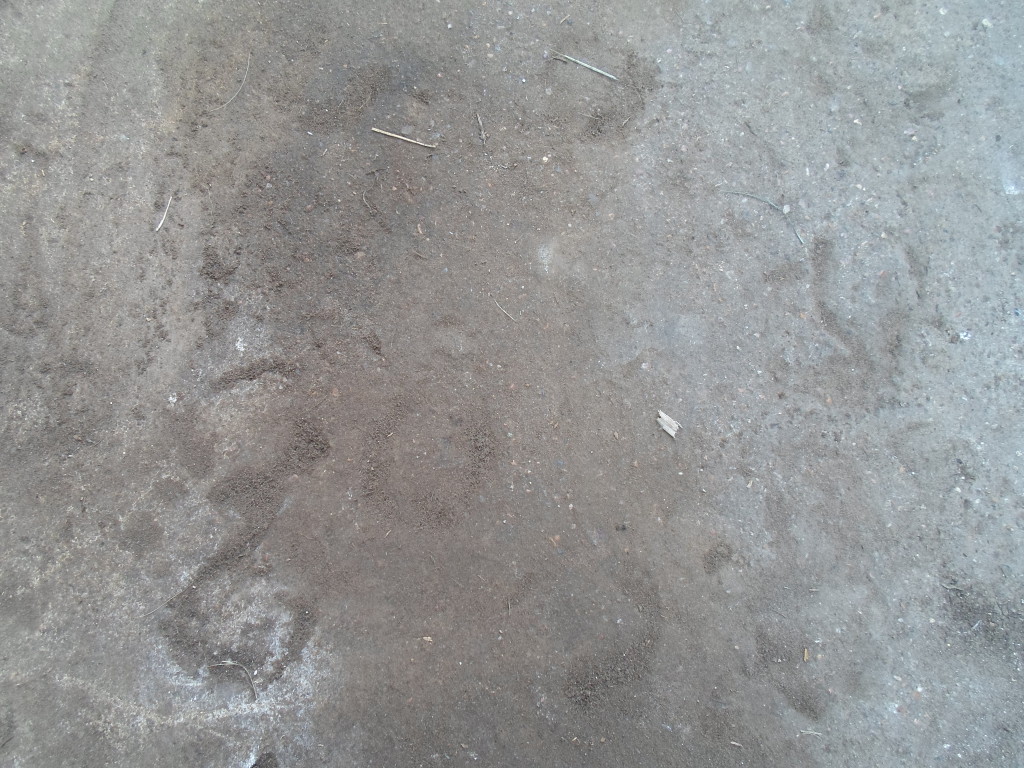 Even though my great-grandfather hailed from Nebraska, his first name was extremely Scandinavian.  This may have been a contributing factor in his decision to only go by his initials.  He did this so much so, in fact, that even friends and family had no idea what his actual name was.
He came to Texas to work on the expansion of the existing irrigation system.  What they were working on would allow more water from the Rio Grande River to be channeled northwards.  More water would reach more farm fields, and I believed it helped the cities as well.
He eventually started a dairy farm as a side business. His son, my grandfather, disliked it so much that he dismantled it almost immediately after inheriting it.  And so, many old dairy farm structures were either torn down or left to eventually disintegrate on their own.  As a result, our property tends to have pieces of very old lumber laying around, and we haven't ever had a good use for them.
– Brand Management –
I would call it "rhyming with the world".  It's a phrase I found in a book, but in the book they call it "rhyming with nature".  Let's be honest – doing something with "nature" sounds kind of passé doesn't it?  It sounds like you have to find a tie-die shirt and a headband to get in.  But "rhyming with the world"?  That sounds like something exotic!  Maybe some sort of never-to-be-forgotten trip to the Caribbean.  Branding is always important, don't you think?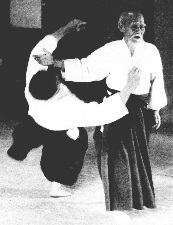 Now, to illustrate a different point, what if instead of calling it "rhyming with the world", we called it "organizational efficiency"?  That almost kind of sounds like something a Fortune 500 company might employ.  How about "operational effectiveness"?  That sounds like it might involve some kind of modern military strategy.  "Harmony of motion"?  Perhaps that's distinctly Aikido.  It's all the exact same thing, just in different contexts: maximizing efficiency.  (Sometimes, to reach this optimal efficiency, you must find a solution that may not be the first item on everyone's brainstorming list!)
– Humans, Everything Else, And Life And Death –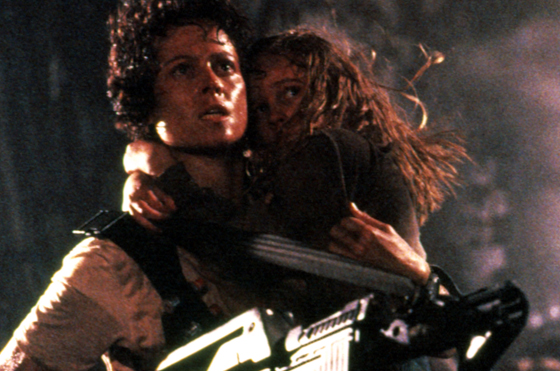 In Aliens, Ripley brazenly and shamelessly betrays the queen alien in a classic deal gone bad.  After being given everything she had wanted, Ripley breaks her tacit agreement with the queen alien.  She blows away the queen, along with all of her eggs, pointlessly, for no reason other than malice.  This is the glorification of anthropocentrism.  (Nearly 20 years after James Cameron shot this scene, it still stands as one of the most unique and one of the best film sequences ever produced.)
Strange as it may sound, this film scene is something of a guilty pleasure.  I am anthropocentric, and this scene is a personal reminder of my own anthropocentricity.  Proof that my worldview holds humans to be preeminent.  In fact, my views on global ecology, and my general desire to not inflict harm on other life unnecessarily, is actually just an extension of this worldview.  It is the way that I, for various anthropocentric reasons, personally choose to exercise free will as an anthropocentric agent.
Global ecology and the role we play in it isn't an abstract academic exercise.  For example, in Australia, finding out the daily UV index is a life and death matter.  The state of the ozone layer around Australia is so bad now that skin cancer there is described as an epidemic.  Some estimate that one in two, or an almost unbelievable two in three, Australians will contract skin cancer in their lifetime.  If humans truly are supreme, then they will surely keep this world, the collective human home, in order.
– Open Your Eyes –
There is a useful mental exercise where someone is shown something, and then that person is asked what they see.  They are supposed to guess what the object is for, or think up additional and perhaps non-intuitive uses for it.  (This is actually a regular segment on Ask This Old House, but in truth I believe I first saw something like it in an old Adrian Lyne production.)
So, what do you see?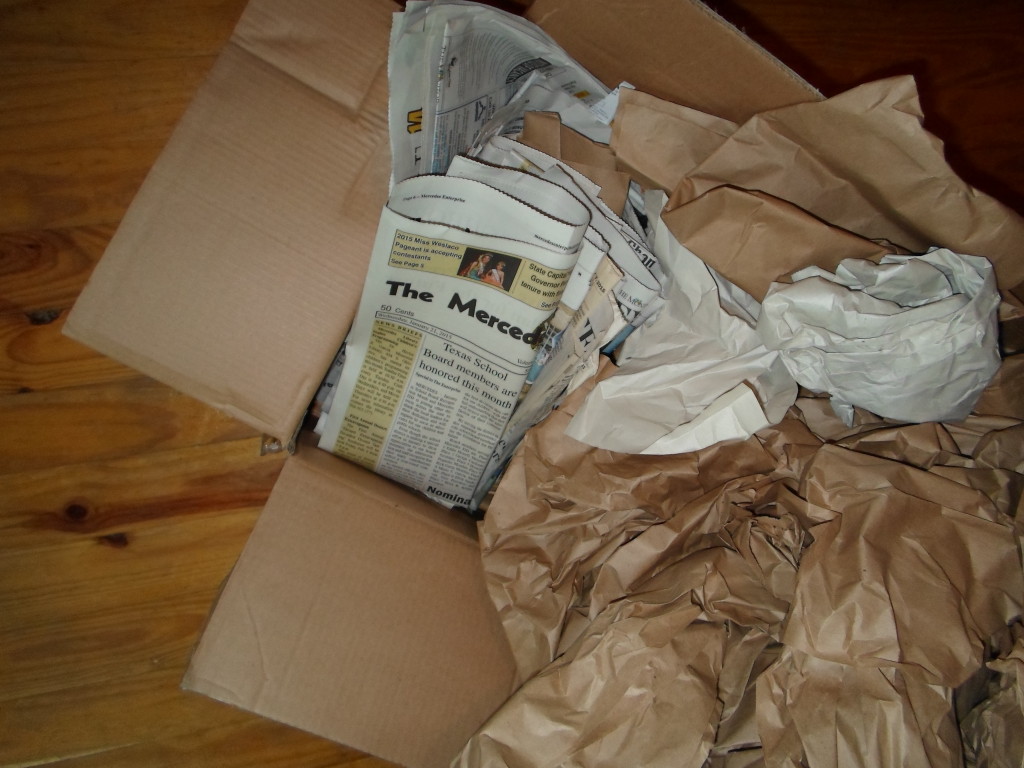 Looks like some discarded paper products – newspapers and packing materials.  In other words, trash, or perhaps paper recycling if we were being good global citizens.  There are surely many secondary uses for something like this.  I'll give you my answer on this in just a second.
What do you see?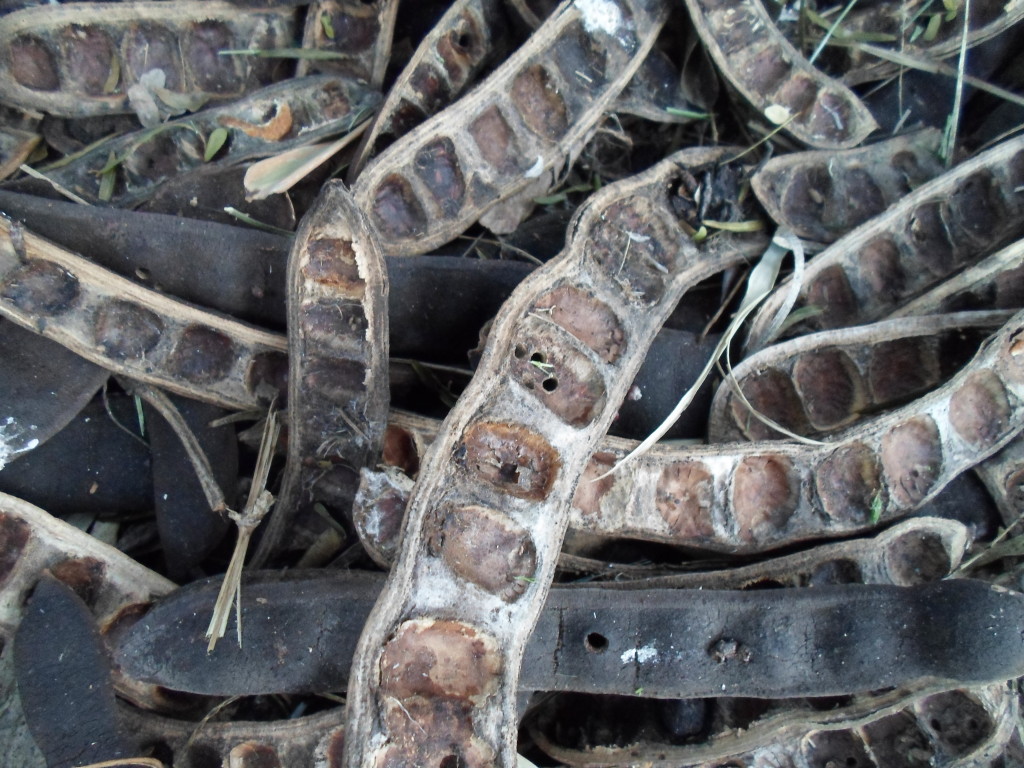 These are seed pods from the Texas Ebony tree.  It stands to reason that the Texas Ebony trees in my yard are the very distant descendants of ancient Texas Ebony trees.  Trees that probably stood here in this very same region, perhaps in a tranquil near silence, before humans were ever here.  Just as today, their seed pods would have fallen everywhere and would have almost been a nuisance had anyone been here to care.  My answer on this, too, in just a second.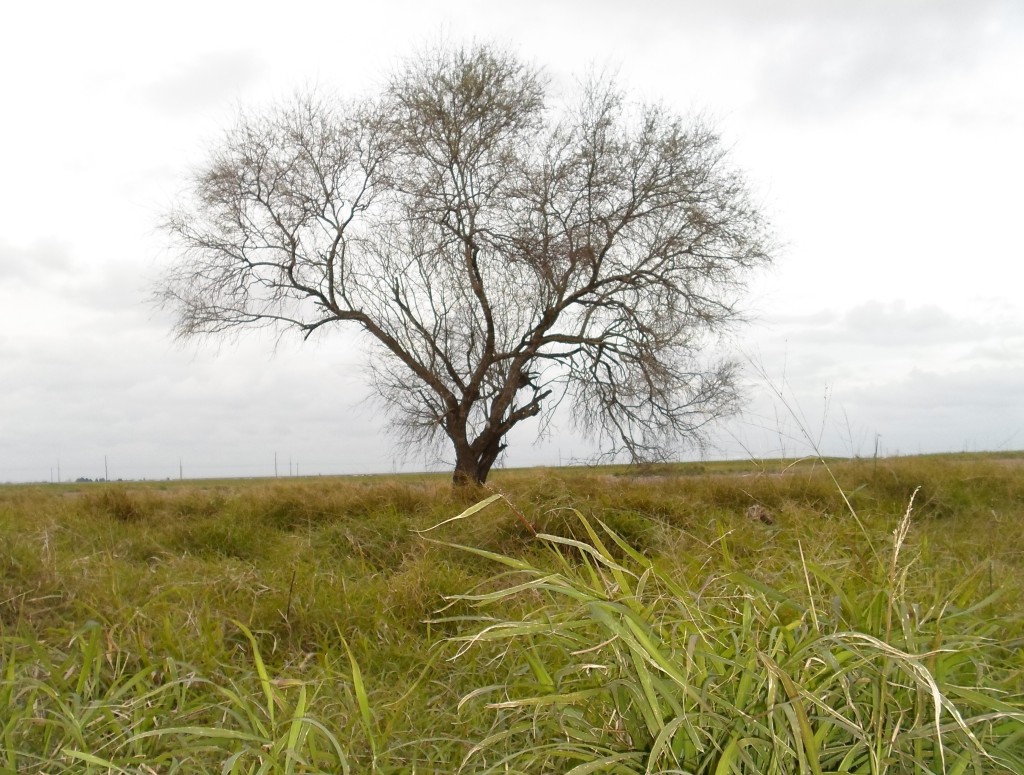 The above picture is your only clue.  It may help you deduce where I'm going with part of this.  The clue is this: Near-useless weeds are endemic in South Texas just like they are endemic in many other places.  There are many ways you can try to manage or eliminate them…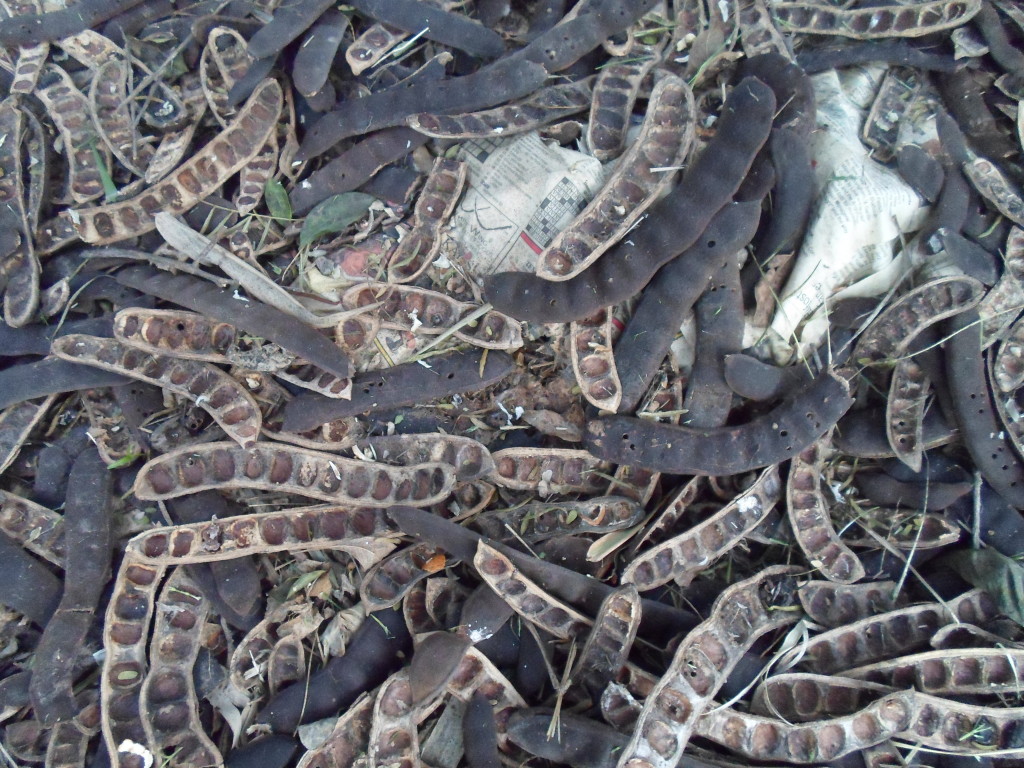 What if we harnessed the shape and size of Texas Ebony seed pods by placing them and the newspaper down over weed growth? Then you would have a semi-permanent weed barrier, and best of all, it would have style. To me, this is an instance of perfect South Texas Style.  Truly, this is something that cannot be bought. You can't buy this weed barrier at Home Depot or Lowe's.  If you're in the U.S., you have to be in South Texas to get it, and when you go to get it, there's usually an abundance waiting for you.
The newspapers will break down over time, but that's OK.  Their purpose is actually two-fold.  First, depending on how much you put down, the newspapers all but guarantee the existing weeds will die.  Otherwise, it will be a huge struggle keeping them from pushing through the second weed barrier (in this case, seed pods).  Second, they buy you time.  We didn't want to have to round up two or three layers of seed pods all at once for our various yard projects.  The newspapers allow you to incrementally add that second weed barrier without having to deal with new weed growth.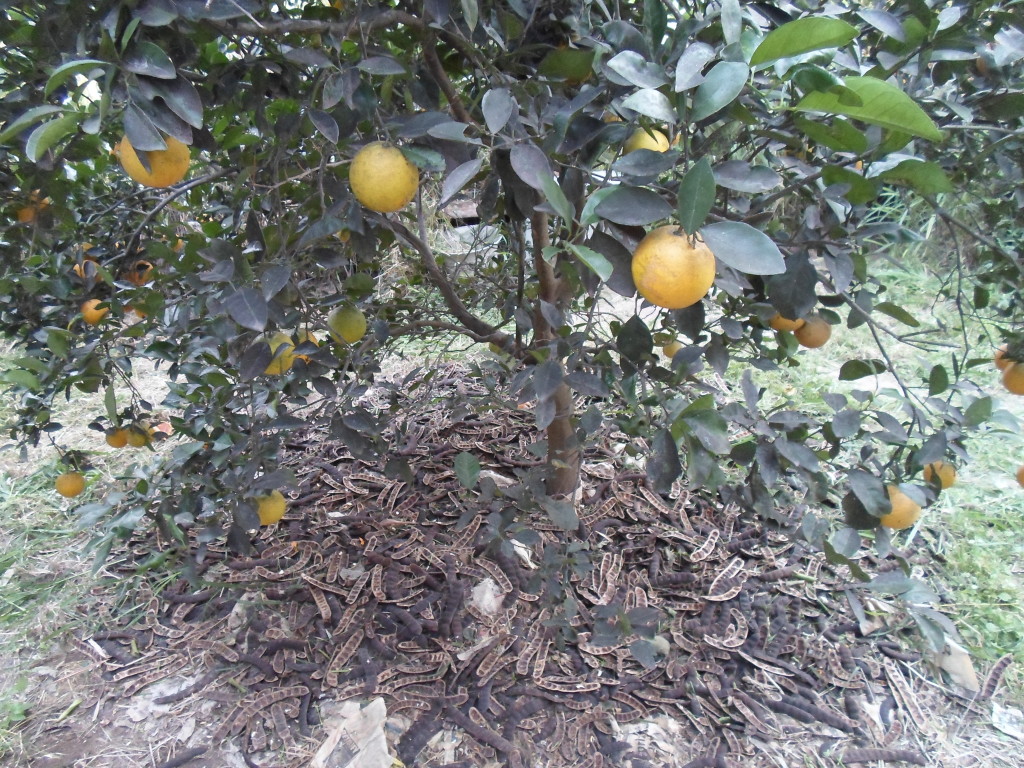 One reason, in particular, we want to place weed barriers around trees and small structures is that we want to be able to cut every blade of grass or every weed with a lawn mower, and not have to bring out another tool to deal with the remaining weeds that are right up against the tree or structure.
Getting closer to the beginning, we have several bamboo plants.  Bamboo can be used for a lot of things!  Some of its uses include food, structures, and weapons.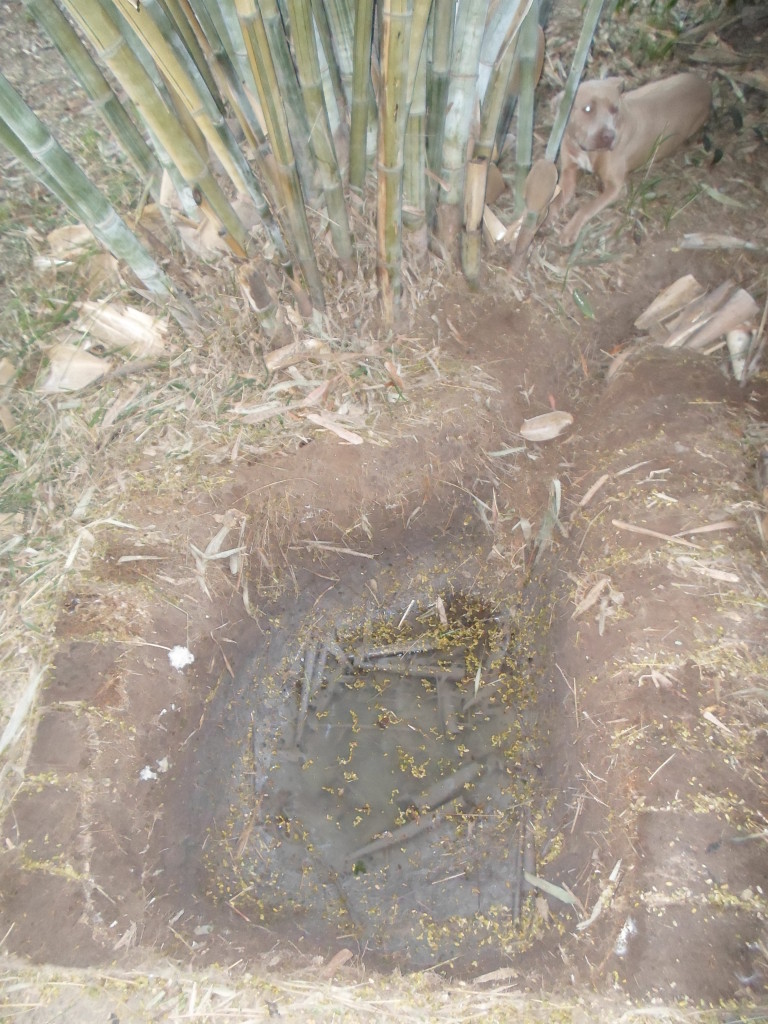 We have dug out a small crater right next to one of our bamboo plants.  We route some of our graywater to this crater so it can be better utilized.  (The ideal design for such a crater would be a bowl-like, concave impression with the bamboo plant right in the middle.  However, for various reasons, we chose to do it this way.)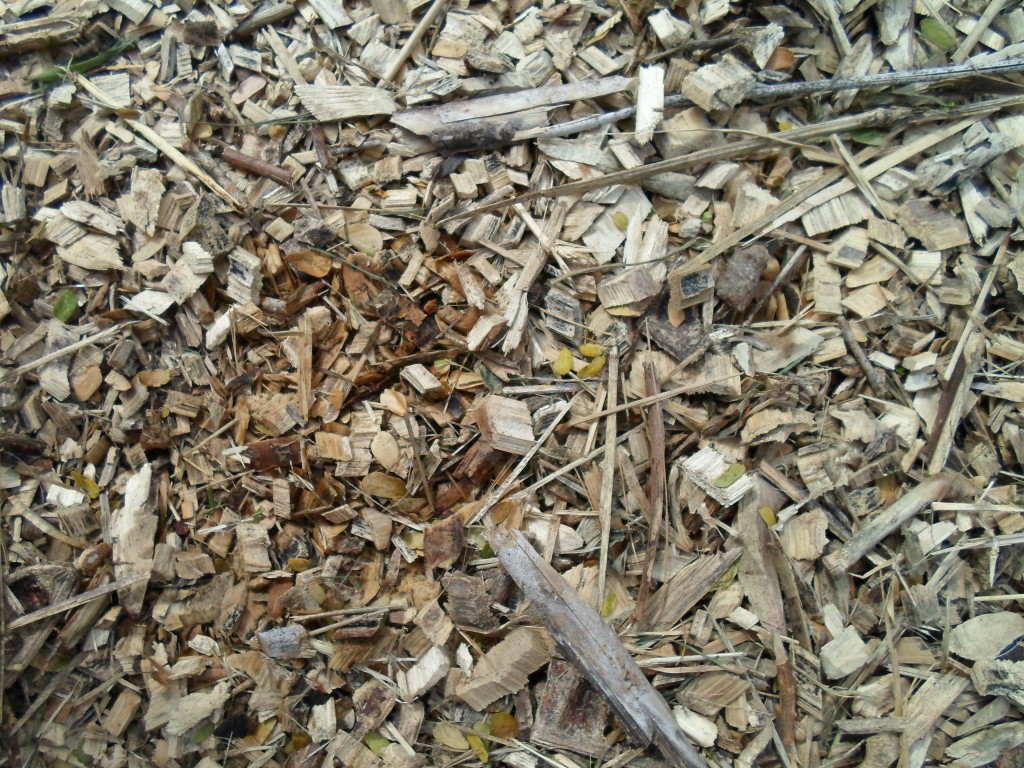 One other great bamboo use stems from the fact it is very easy to put through a chipper and turn into fine-grained bamboo pieces.  These chips are a great second-level weed barrier.  More bamboo growth will give us more ammunition to snuff out more weeds.  This is pretty good holistic efficiency.
But what about that huge crater?  It's not very appealing to have a huge hold in the middle of your yard!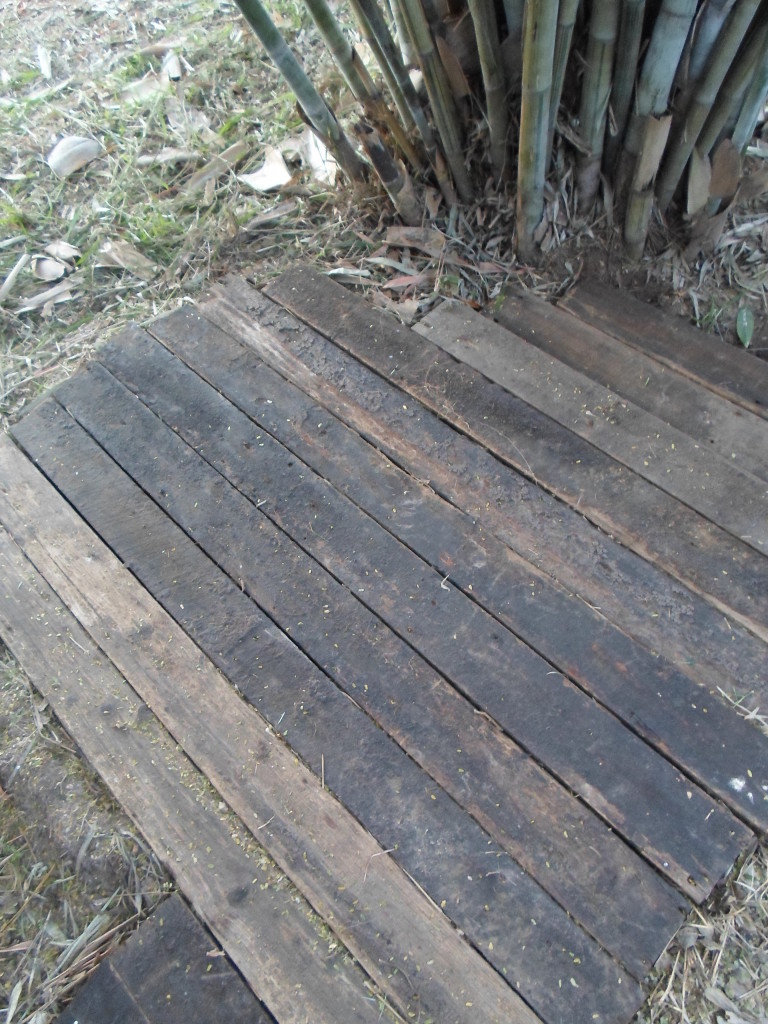 Now back at the very beginning, we take some of that old lumber, saw it down to size, and cover the crater so we can walk over it.
The old Van Berg dairy farm lives on.